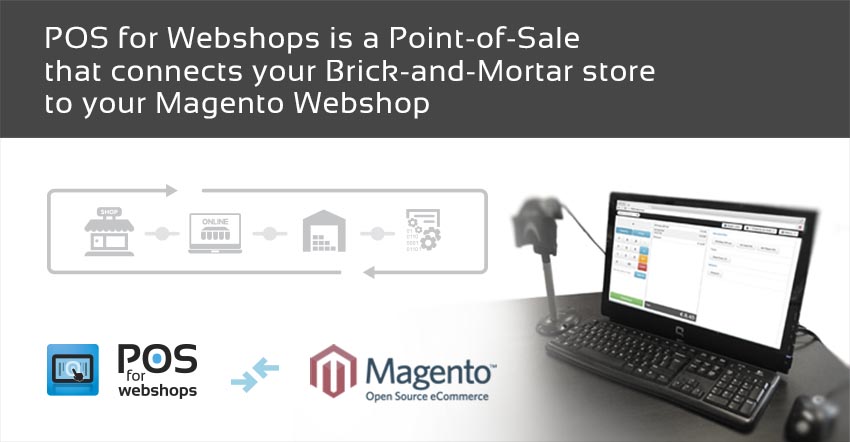 The Point-of-sale with a connection for your Magento store
An easy to use, but powerfull Point-of-Sale for your business

Stock Management / Inventory Control
No more need to open each product one by one to update the stock levels in your webshop. In the "Stock management" screen you can update all your products quickly with the use of a barcode scanner. Scan your items and the stock will be either increased, lowered or set to your chosen value. A quick and intuitive interface to handle your inventory. An inventory log shows all your stock modifications and the important product details in a simple list. Do you need to price your incoming goods? Scan the product to view current stock and pricing from your webshop. POS for Webshops will publish your unpublished products automatically when they're back in stock, if you wish (it's a setting).

Have you ever shipped the wrong product?
A mistake is easy to make. With hundreds or thousands of sku's it's inevitable that you will pick and ship the wrong product from time to time. The built in orderpicker will help you minimize mistakes. All products and ordered quantities can be checked by scanning each product. Products that have no barcode can of course also be checked manually using the product details and product image from your webshop.
It is possible to automatically change the Order Status in VM after picking an order.
Sorry, we're sold out
When something sells out in your store, you need to make sure that it can no longer be bought by an online customer. Have you ever had to send that email apologizing to your customer. "I'm sorry the product you ordered wasn't available anymore".
With POS for Webshops you can automatically keep the webshop stock up-to-date with every sale you make. You can also have the products unpublished automatically in your webshop. Keeping a separate stock for your webshop? No problem, just disable the "modify stock" feature and you can sell your products independently without messing up your online stock.

Quick and easy refunds
When you need to give a refund to a customer or raise a credit note, just scan the barcode on the order and a window with the order details will open. If you do not use a barcode on your receipts you can also search by customer, order number, date, etc.
Select the items you want to refund and process the order. Your stock will be kept up-to-date, and your customer happy.

No constant internet connection? No problem!
POS for Webshops runs independent from web access and data is always stored locally and auto-synced upon re-connection. This way you can easily take a laptop with the POS installed to a fair or (trade) show and sync all your sales when your back home with an internet connection.
If you do not want to rely on local hardware and prefer to use an online cloud version, that's also possible. In that case you will need an active internet connection of course.

Printing Barcode Labels
Printing Barcode Labels for your products has never been easier; Choose your label style in Your Point of Sale Configuration and set the width and height of your labels.
Click on the print button next to the barcode of the product to print your label.